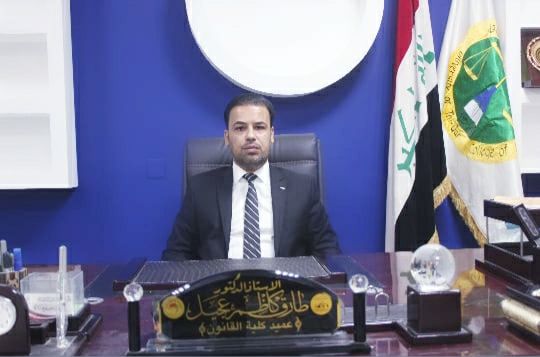 Prof. Dr. Tariq Kazem Ajee
Dean of the College of Law - University of Thi- Qar
In the city of Thi-Qar and based on the historical and cultural depth of this ancient city, the College of Law stands at the University of Thi-Qar as a scientific and cultural edifice, interacting with social reality. The college was established within the University of Thi-Qar in 2002, and since its establishment, it has worked to enhance the legal depth in society by preparing legal cadres and providing the state and community sectors with holders of a bachelor's degree in law. The college also has a leading role in perpetuating democratic thought for governance, especially after the political change that Iraq witnessed after 2003.
Today, the Faculty of Law at the University of Thi Qar represents a distinguished scientific edifice in all fields, within the scope of the university in particular, and within the scope of Thi Qar Governorate in general. The college includes a scientific staff specialized in all branches of law. The college staff holds high academic degrees. In addition, there are postgraduate studies for masters and doctorates in various legal specializations. The college also includes a refereed scientific journal to publish scientific studies and research. The scientific ambition of the college is increasing in light of the continuous support of the university presidency and the Ministry of Public Education and Scientific Research.
Powers of the College Dean
A ) To follow up the progress of the preliminary and higher studies to achieve the objectives set forth in this law, and to continuously maintain the intellectual, educational and scientific conditions.
B ) Approving the recommendations of the departmental and branch councils
C ) Approval of distributing study materials and semester units to faculty members and lecturers, selecting members of thesis discussion committees, and setting dates for thesis discussions
D ) Implementation of all instructions and regulations regarding the organization of scientific and educational affairs and the decisions issued by the College Council
A ) Implementing the instructions and regulations related to all administrative and financial affairs.
B ) Approval of the recommendations of the committees formed in the college.
C ) Approval of the registration of students for studies.
D ) Approval of the purchase and import of laboratory aids, other scientific supplies, magazines and books according to the instructions in force.
E ) Approval of the payment of bonuses to people who work outside the university, but they provide training and teaching services in the college, supervising dissertations, and participating in comprehensive examination committees and discussion committees in accordance with the legislation in force.
Design
Eng.Furqan Adel Muhssin